Explore Northwood Business Park virtually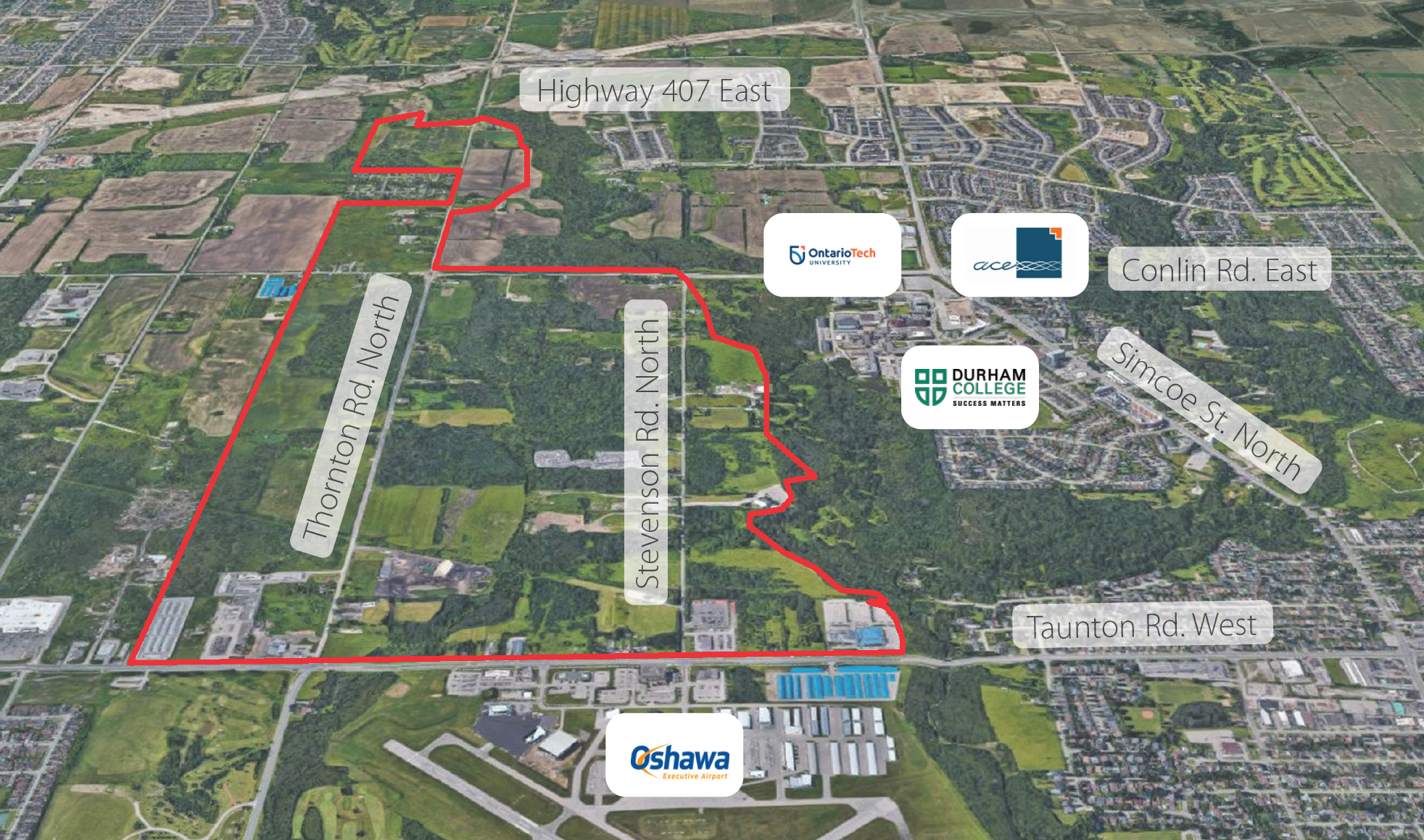 Northwood Business Park Brochure - Accessible PDF
Property Details
| Area | Details |
| --- | --- |
| Gross Area | +/- 722 acres |
| Developable Area | Estimated +/- 500 acres |
| Oshawa Official Plan Land Use Designations | Industrial, Open Space and Recreation, Special Purpose Commercial and/or Local Central Area. |
| Frontage | Thornton Road North, Stevenson Road North, Taunton Road West and Conlin Road West. |
| Zoning (Arterial Roads) | Select Industrial, General Industrial, Special Purpose, Planned Commercial Centre, Automobile Service Station, Commercial, Park Open Space, Environmentally Sensitive Open Space, Hazard Lands Open Space and/or Urban Reserve. |
| Servicing | Approved and budgeted by Region of Durham. |
Highlights
Location bounded by Taunton Rd. W. to the south, the Oshawa-Whitby boundary to the west, Highway 407 East to the north and the Oshawa Creek to the east.
Northwood Business Park consists of multiple privately held properties with a distribution of open space areas.
Pre-servicing for water and sewer infrastructure projects is a Region of Durham priority.
Pre-zoned employment lands.
Minutes to Highways 401 (Stevenson Rd. S. exit), 407 East (Simcoe St. N. exit), 412 and 418. Adjacent to the Oshawa Executive Airport. Served by Regional Bus Transit.
In proximity to leading post-secondary institutions and research facilities — Ontario Tech University, Durham College, and The Automotive Centre of Excellence (A.C.E.).
Environmental Assessment for Stevenson Rd. N. currently underway.
Development Charges
Non-Residential Development Charges and Cash-in-lieu of Parkland Dedication as of January 1, 2021 (payable in full to Building Permit Services on or before the date a building permit is issued):
Fees

| Non-Residential Development | Commercial | Industrial | Institutional (Unless exempt from the by-law) |
| --- | --- | --- | --- |
| City of Oshawa | $132.95/m2 | N/A (exempt) | $132.95/m2 |
| Region of Durham | $221.76/m2 | $119.54/m2 | $115.45/m2 |
Oshawa does not collect City Development Charges on industrial development. This represents a savings of over $967,000 per 10,000 sq. m. (107,000 sq. ft.) of development.
The City of Oshawa is ranked number 1 for development approval timelines across the G.T.A. (Altus Group, 2020).
In 2020, Oshawa had its fourth Highest Total Construction value on record at $480,474,100.

Oshawa has the lowest industrial development charges in Durham, York, Peel, Halton and Hamilton: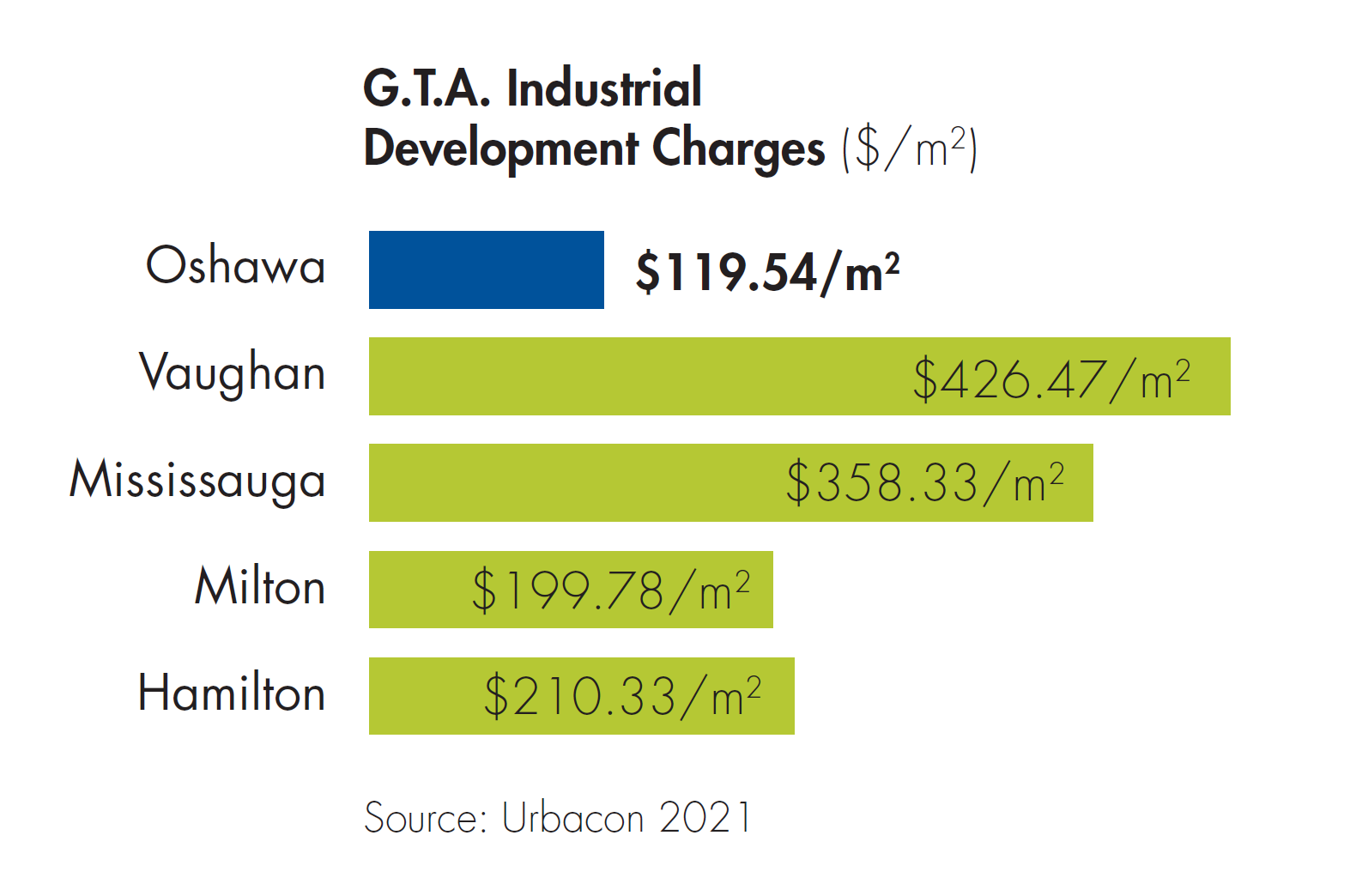 Access and Connectivity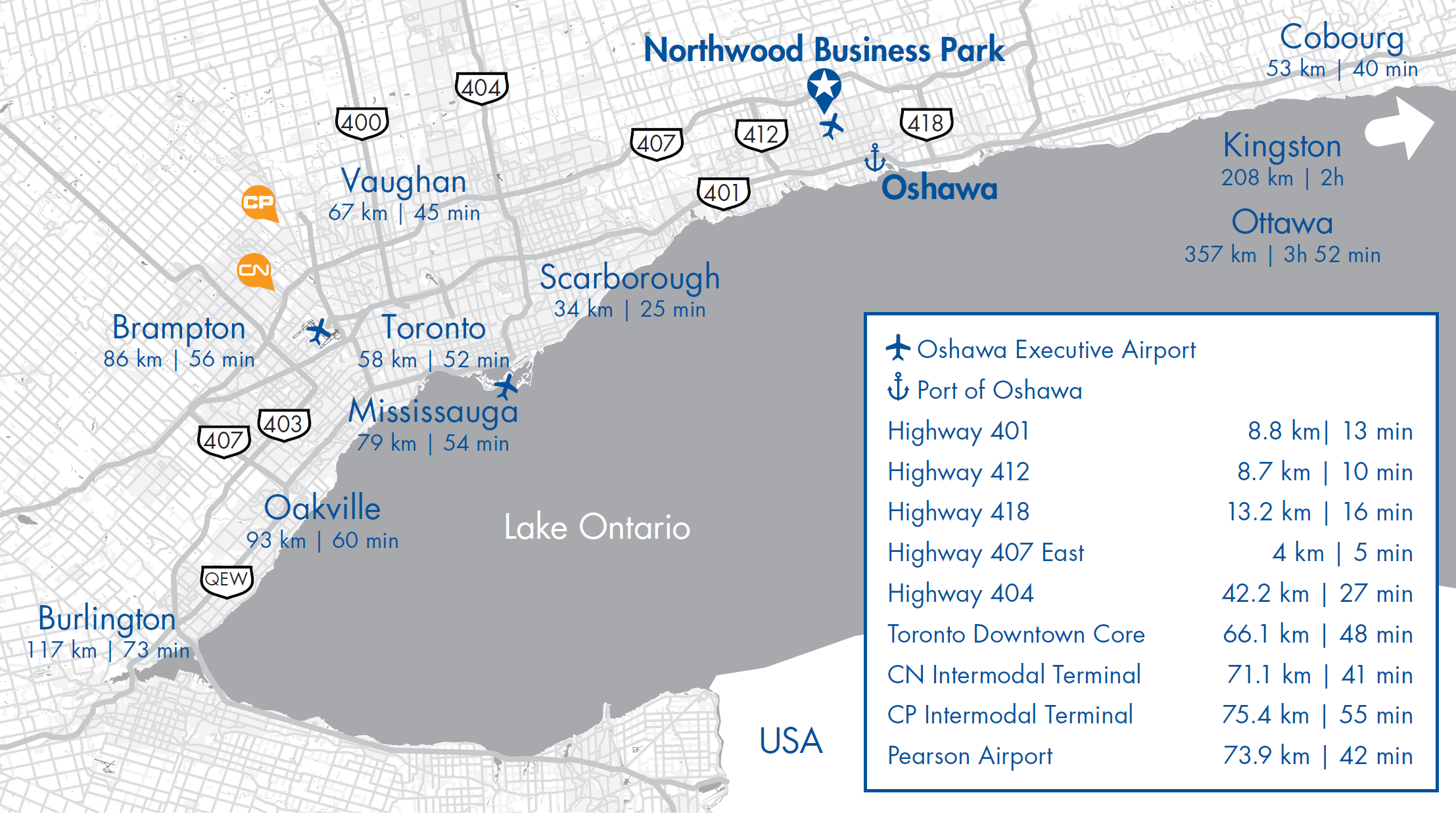 Companies in Oshawa have quick and convenient access to Canada's largest consumer market of more than 5 million people and are located within a day's drive of more than 120 million Canadian and American consumers. With easy connections to multiple U.S.A. border crossings into New York, Michigan and Minnesota, Oshawa offers superior access to American markets.
Hamilton-Oshawa Port Authority is the Region of Durham's gateway to world markets through the St. Lawrence Seaway. Highway Infrastructure in Oshawa includes two 400 series highways, Highway 401 and Highway 407.
Oshawa Executive Airport is a regional airport offering corporate business travel and general aviation. Passenger charter services, freight services, aircraft maintenance and aircraft restoration services are provided at the airport. On-site Canada Border Service Agency—Canada Customs is available seven days a week by appointment.
Talent
Oshawa's dynamic and diverse economy consists of:

According to Statistics Canada, Oshawa Census Metropolitan Area (C.M.A.) is leading Canada in population growth.
Oshawa ranked fifth as one of the best cities to move to for those moving out of Toronto to surrounding communities by HuffPost (2020).
BMO's Regional Labour Market Report Card (2020) examines labour market trends in Canada and ranked Oshawa sixth in Canada and second in Ontario.