The National Day for Truth and Reconciliation 2023
Canada has designated September 30 as a National Day of Truth and Reconciliation. This is a day for everyone to reflect on the history between First Nations, Inuit and Métis peoples and settler Canadians and to further our understanding of the injustices of the last centuries. We are asked to make space for and understand the truth of Indigenous Peoples experiences. We are asked to contemplate our own individual role in changing Canada and our communities into places of dignity and respect for Indigenous Peoples.
The National Day for Truth and Reconciliation is also an opportunity for Indigenous peoples, local governments, schools and communities to come together in the spirit of reconciliation and hope for generations of children to come. On this day, we wear orange to remember the experiences of former students of residential schools and to commit to ongoing reconciliation
To advance the goals of National Day for Truth & Reconciliation Day, we have pulled together a variety of resources to assist members of community and City staff are able to access to learn, reflect, and take action to advance reconciliation.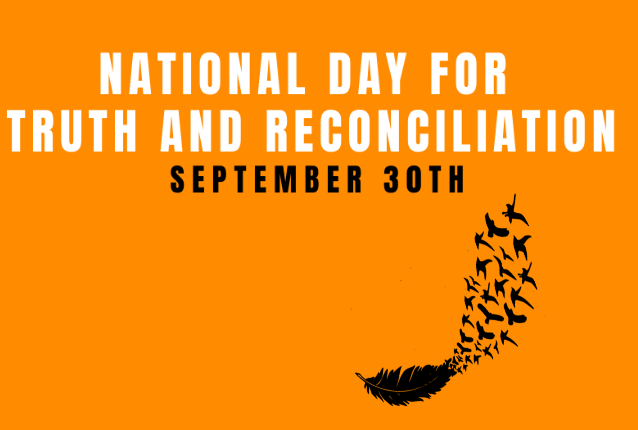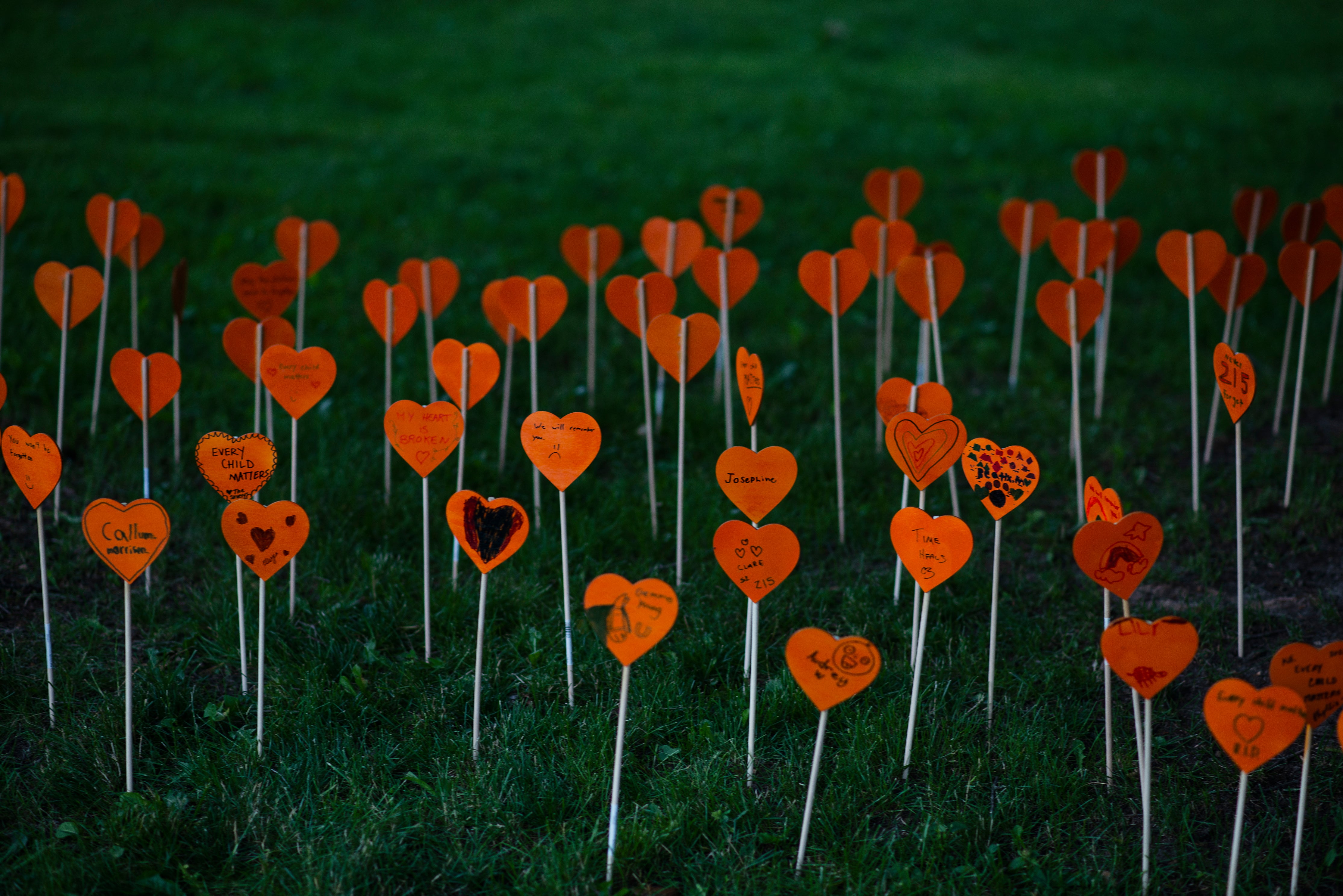 Get Involved for the NDTR 2023!
Gchi-Piitendaagziwag Kina Binoojiiyag
'Every Child Matters' - Orange Ribbon Memorials
Bawaajigewan Aboriginal Community Circle and the City of Oshawa invite community members to join us as we commemorate the children stolen, murdered and mistreated through Indian Residential Schools.
There are five locations in Oshawa that will be available from September 6 to October 7. The City of Oshawa invites residents to join us in tying orange ribbons as a sign of respect to these Indigenous children and families, and to support healing in Indigenous Communities across Canada.
Orange Ribbon Locations:
• North – Columbus Community Centre
• South – Lakeview Park
• East – Delpark Homes Centre
• West - Civic Recreation Complex
• Central – Oshawa City Hall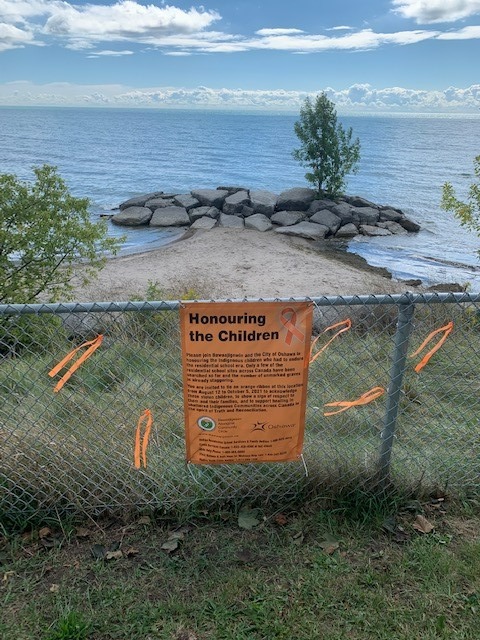 Flag Raising and Proclamation
Wednesday, September 6, 2023 at 4 p.m. the City of Oshawa will be raising the Survivor Flag at City Hall located at 50 Centre St. South Oshawa.

We will hear from Mayor Dan Carter as he proclaims this day as Orange Shirt Day as well as the National Day for Truth and Reconciliation. We will also be joined by special guest, Anishinaabe Elder, Dorothy Taylor to do a traditional opening for us and Nimkii Osawamick will be there with the Big Drum to pay tribute and support healing to the Indigenous Community, that still faces many negative impacts caused through colonization and the Indian Residential School Era.
Land Acknowledgment
The City of Oshawa is situated on land steeped in rich Indigenous history and culture that is the present-day home to many First Nations, Inuit, and Métis people. We acknowledge that we live and work on land covered within the Williams Treaties and the traditional territory of the Mississauga and Chippewa Anishinaabeg. We also acknowledge that the Huron-Wendat and Haudenosaunee Nations, among many other Indigenous nations have utilized this territory for trade and commerce for time immemorial.
We acknowledge this land out of respect for the many Indigenous nations who have cared for the lands and waters from the beginning of time and still do so today. We are grateful for the opportunity to live and work on their territory.
We are committed to understanding the truth of our shared history, confronting our past and present, and building a better future together in true reconciliation.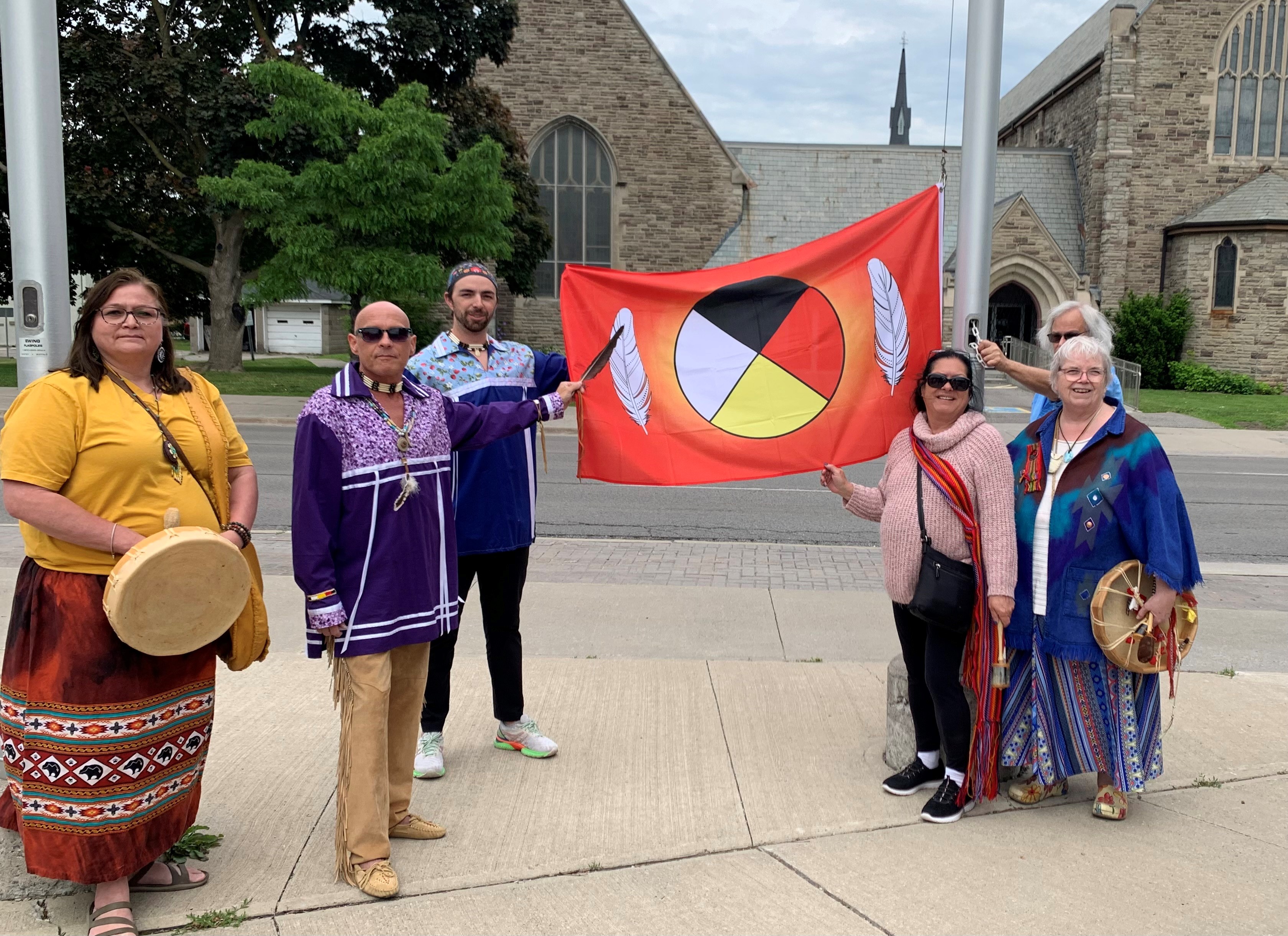 Local Resource Guide
The following resources provide some education about Indigenous communities in Durham.
What Treaty Territory is Oshawa Located on?
The City of Oshawa is located on the traditional territories of the Chippewa and Mississauga Anishinaabeg that is covered under the Williams Treaties.
Did you know there are seven First Nation Communities that are covered within the Williams Treaties?
Michi Saagiig (Mississauga) Nations:
Chippewa Nations:
What is the history of the Mississaugas of Scugog Island First Nation?
The history of the Mississaugas of Scugog Island First Nation in this territory begins around 1700 when they moved into southern Ontario from their former homeland north of Lake Huron. The Mississaugas are a branch of the greater Ojibwa Nation, one of the largest native groups in Canada.
The Mississaugas of Scugog Island First Nation are signatories to the Williams Treaties. These treaties involved the surrender of the last large portion of the territory in the southern regions of Ontario that had not been given up to government. First Nation leaders and community members entered into these negotiations to address the issue of settlers encroaching on their traditional lands. Instead, the outcomes of these treaties were continued injustices against the First Nations including insufficient compensation, inadequate reserve lands, and the inability to freely exercise harvesting rights.
On October 29, 2012, in a case brought by the Mississaugas of Alderville First Nations, Canada and Ontario took the position at trial that harvesting rights associated with pre-confederation treaties signed by the First Nations were not intended to be surrendered in 1923 with the signing of the Williams Treaties. This position recognizes the Williams Treaties people's constitutionally protected harvesting rights and means Williams Treaties harvesters are able to exercise rights in line with those of other treaty people in most of Ontario.
In June 2018, the Williams Treaties First Nations ratified the Williams Treaties Settlement Agreement with Canada and Ontario This agreement aims to reconcile some of the injustices of the Williams Treaties by recognizing pre-existing treaty harvesting rights for First Nations members, compensating the First Nations who were unfairly compensated in the original treaties, adding additional reserves lands. This settlement also involved formal apologies from the governments of Canada and Ontario for the harmful impacts of the Williams Treaties.
Who is Bawaajigewin?
Bawaajigewin Aboriginal Community Circle is an Indigenous-led non-profit agency that responds to and advocates for all Indigenous people in Durham Region.
Who is the Métis Nation of Ontario?
In 1993, the Métis Nation of Ontario (M.N.O.) was established through the will of Métis people and Métis communities coming together throughout Ontario to create a Métis-specific governance structure. Prior to 1993, Métis had been involved in pan-Aboriginal lobby groups and organizations. The M.N.O. was not created to represent all individuals and communities that claim to be Métis, but those individuals and communities that are a part of the Métis Nation.
The Oshawa and Durham Region Métis Council is the Charter Community Council of the Métis Nation of Ontario in Durham Region.
Who is Carea?
Carea Community Health Centre is a registered charity that provides a range of free services and programs to community members across Durham Region. Carea Community Health Centre offers a variety of services to support Indigenous individuals and communities.
Truth and Reconciliation at the City of Oshawa
On June 20, 2022 Oshawa City Council recognized and acknowledged the T.R.C.'s Calls to Action and the United Nations Declaration on the Rights of Indigenous Peoples (U.N.D.R.I.P.). Council also committed to meaningful reconciliation with Indigenous communities, using these two documents as the framework for the City's Reconciliation efforts.
This report provides more details about Council's acknowledgement of the Calls to Action and U.N.D.R.I.P.
National Day for Truth and Reconciliation
The City has proclaimed September 30 as the National Day for Truth and Reconciliation in Oshawa. This day is an opportunity for Oshawa residents to recognize and commemorate the legacy of residential schools.
The establishment of a National Day for Truth and Reconciliation is in response to the 80th call to action from the Truth and Reconciliation Commission of Canada (T.R.C.) which calls for a day to "honour survivors, their families, and communities, and ensure that public commemoration of the history and legacy of residential schools remains a vital component of the reconciliation process."
2022 Every Child Matters Flag Raising Ceremony
On September 23, 2022 the City of Oshawa raised the Every Child Matters flag at City Hall in recognition of National Day for Truth and Reconciliation. Residents were invited to pay tribute to Indigenous children who endured the residential school era by tying an orange ribbon to the memorial in Civic Square and visiting the City's Every Child Matters Memorial Garden.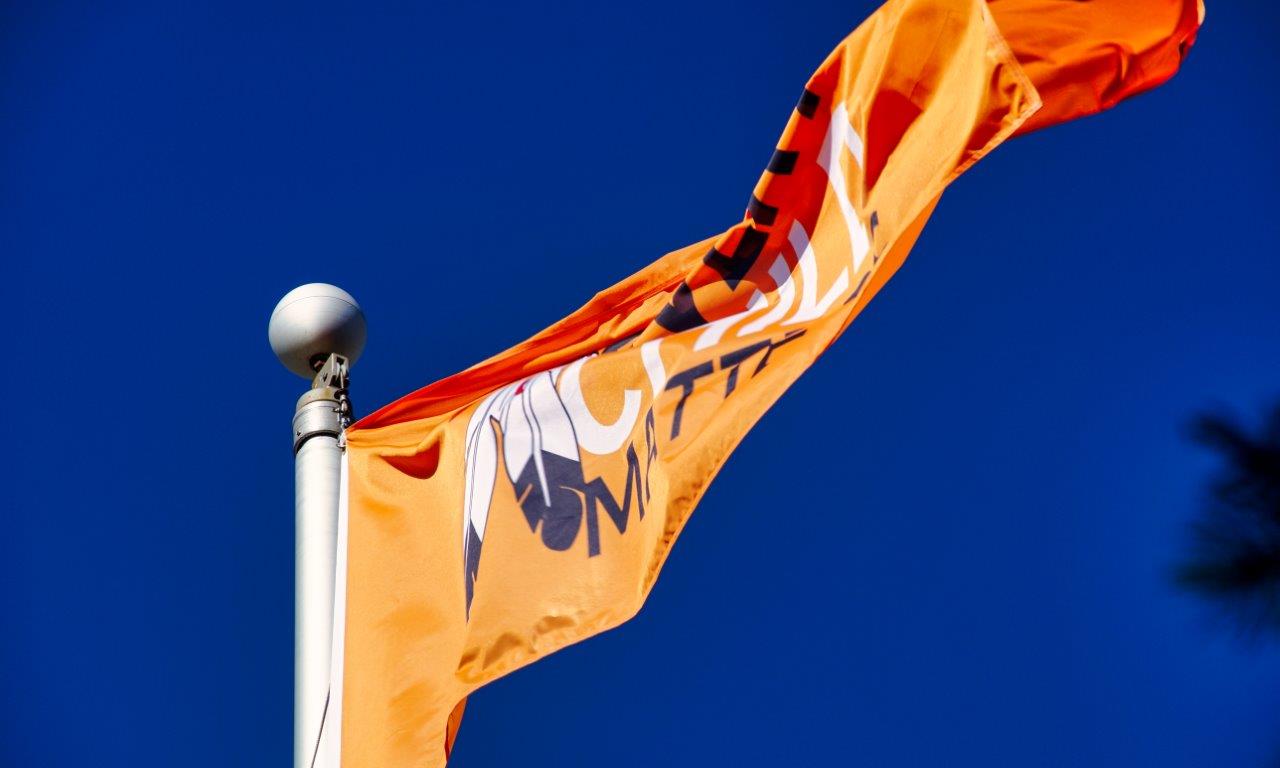 Honouring the Children – Orange Ribbon Memorials
In partnership with Bawaajigewin Aboriginal Community Circle, the City of Oshawa invited community members to commemorate the children lost to residential schools and support healing in Indigenous communities by tying orange ribbons at one of the five memorials across the city.
2023 Survivor Flag
On September 6, 2023, the City of Oshawa will raise the Survivors' flag to honour residential school Survivors and all the lives and communities impacted by the residential school system in Canada. Each element depicted on the flag was carefully selected by Survivors from across Canada, who were consulted in the flag's creation.


Read more about these elements and Survivors speaking about the significance of the flag.
The National Day of Awareness for Missing and Murdered Indigenous Women, Girls, Two-Spirit, and Gender Diverse Individuals (MMIWG2S+)
Welcome to the MMIWG2S+ Section. Below you will find great resources to help learn more, build on your understanding of this current crisis within Canada and find ways to get involved.
The images used for the posters around City Hall were taken from CBC Missing and Murdered: The Unsolved Cases of Indigenous Women and Girls
History of MMIWG2S+
The National Inquiry into Missing and Murdered Indigenous Women, Girls, Two Spirit and Gender Diverse Individuals (MMIWG2S+) was launched in 2016 to examine and report on systemic causes of all forms of violence against Indigenous individuals, particularly women and girls who face disproportionately high levels of violence when compared to their non-Indigenous counterparts.
This inquiry is a direct response to the Truth and Reconciliation Commission Call to Action #41,
"We call upon the federal government, in consultation with Aboriginal organizations, to appoint a public inquiry into the causes of, and remedies for, the disproportionate victimization of Aboriginal women and girls."
The goal of the Inquiry was to investigate and report on the systemic causes of all forms of violence against Indigenous women and girls and to examine the underlying social, economic, cultural, institutional and historical causes that contribute to the ongoing violence and particular vulnerabilities.
Through the Inquiry into MMIWG2S+ there were 4 key areas addressed where systemic changes need to be implemented:
Calls for Justice for All Governments
Calls for Justice for Industries, Institutions, Services and Partnerships
Calls for Justice for All Canadians
Calls for Justice specific to Inuit, Métis, and 2SLGBTQQIA+
To learn more about these areas, please read the inquiry or watch this brief Video Overview to Contextualize the Inquiry into MMIWG2S+
Purpose of the National Day of Awareness for MMIWG2S+
Why do we have a day?
May 5 has been designated as a day to pay respect to the victims, raise awareness of the crisis and call on governments to take action to address the racialized and gendered violence inflicted on Indigenous peoples in Canada.
Why Red Dresses?
Red Dress Day was inspired by Métis artist Jaime Black's REDress Project installation, in which she hung empty, red dresses to represent the missing and murdered Indigenous women. Red dresses have become symbolic of the crisis as a result of her installation.
Current Concerns
Learn more about MMIWG2S+
The Final Report of the National Inquiry led to the National Action Plan being developed to help support all levels of government and communities in their steps to reduce the dangers Indigenous Peoples face within Canada.
Crisis Support Resources
If you or someone you know is affected by gender-based violence, you can find support lines in your region:
Women and Gender Equality Canada's Gender-Based Violence Knowledge Centre maintains a searchable database of information and resources on gender-based violence:
Ways to be an Active Ally