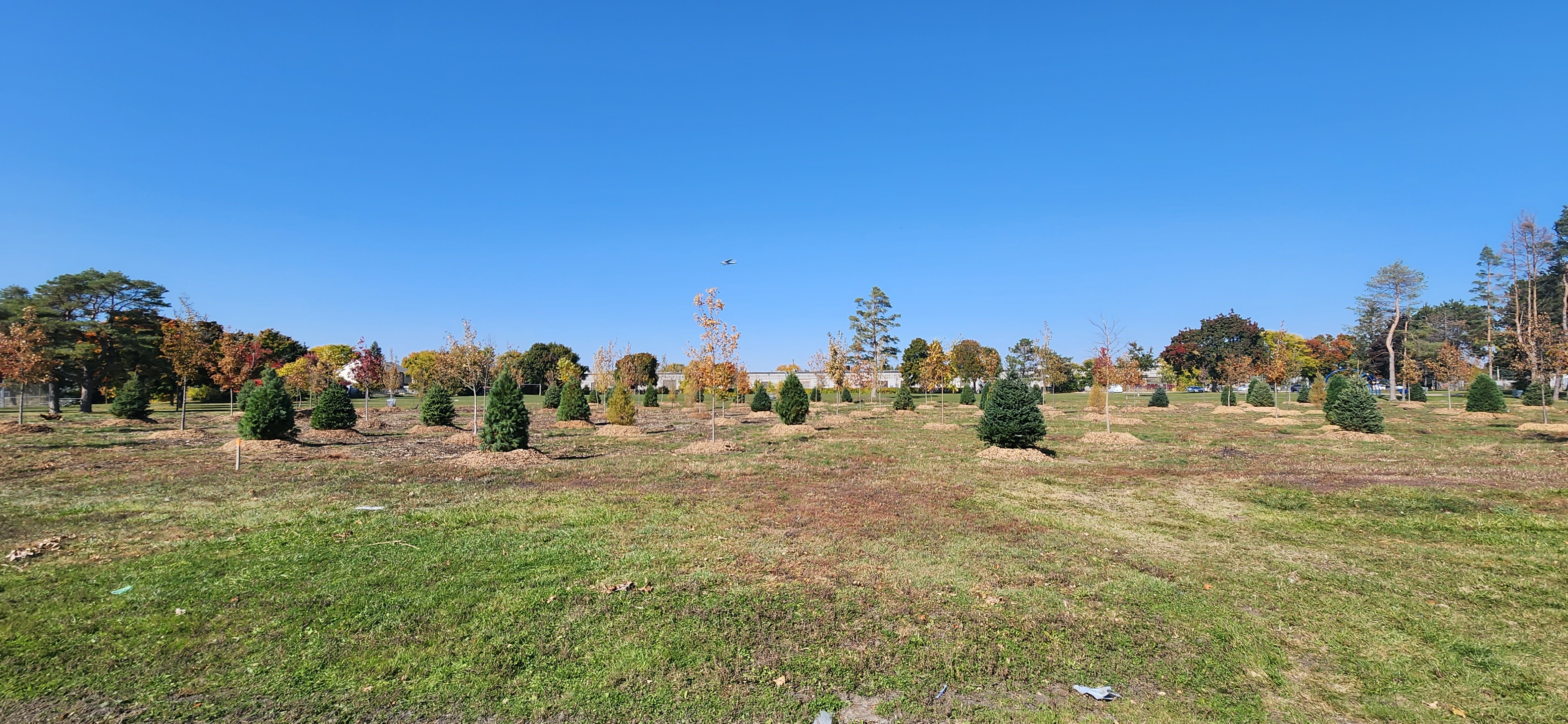 A total of 95 participants and 15 LEAF volunteers attended and successfully planted and mulched 450 native trees and shrubs in October adding to the 150 Large caliper trees previously planted at Russett Park. The restoration process will continue through this year so remember to visit yourleaf.org for more info on future events both here and around the City of Oshawa.
Trees are one of our most precious natural resources. They enrich our lives and provide social, ecological and economic benefits.
Forestry Services manages and maintains over 41,500 street trees and 560 ha of woodlot. City owned trees are located on public land areas like boulevards, parks, green spaces and city trails.
Forestry Services
Create a Forestry related Service Request or call 905-436-3311.
Street trees and tree care
Maintenance activities include pruning, removing unsafe trees, tree planting and pest management. Proper care of street trees will maintain their structure and prevent issues with the surrounding environment. Learn more.
Woodlots and green spaces
Request pruning and maintenance of a woodlot or greenspace area that is next to your property. Create a Service Request or call 905-436-3311.
Emerald Ash Borer management
Read more information about Emerald Ash Borer and how it has affected the City of Oshawa
Tree planting
The growth and rejuvenation of our canopy is a priority as we work to replace many of our street trees due to Emerald Ash Borer. More tree planting and program information can be found here.
Commemorative Tree Program
Pay tribute to a person or occasion by purchasing a park tree for installation in a City of Oshawa public park. Learn more.
Preservation and Protection
Subsidized Backyard Tree Planting Program
Beautify your property and help grow our urban forest! We have partnered with LEAF to bring our residents a subsidized Backyard Tree Planting Program. Learn more at yourleaf.org. Choose from two options:
Full Service Tree Planting
30 minute consultation in your yard with a LEAF arborist
5 to 8 foot tall native deciduous tree OR 2 to 4 foot tall native evergreen tree
Delivery and full planting service
Mulch and planting/care guide
Do-It-Yourself Tree Planting
Online educational videos
30-minute virtual consultation with a LEAF arborist
5 to 8 foot tall native deciduous tree OR 2 to 4 foot tall native evergreen tree
Delivery (property owner plants)
Mulch and planting/care guide
Re-greening downtown Oshawa
Discover the City of Oshawa's planting practices to incorporate sustainable tree planting practices into the re-greening and revitalization of the downtown tree canopy.
Sustainable planting practices
To grow a healthy mature tree canopy, the City is implementing several sustainable planting practices downtown aimed at improving growing conditions that include the:
review of tree planting locations to limit conflicts with existing infrastructure, services and pedestrians;
planting of suitable tree species tolerant to urban conditions;
use of soil cell techniques and suspended paving to support the sidewalk above without compacting the soil below;
use of rubberized mulch around the base of the tree to allow water to absorb into the soil; and
installation of watering pipes to be used during times of drought.
How you can help keep our downtown tree canopy healthy
Do not trim or prune the tree. The City's Forestry Services has qualified arborists who will prune and maintain the trees as they mature.
To avoid damaging the bark, which can eventually kill a tree, keep the area around the tree free of debris, do not lean, nail or attach anything to the trunks such as signs or bicycles.
Leave the rubberized mulch at the base of the tree. The mulch is there to protect the tree from damage and reduce water loss.
If you notice that a City boulevard or park trees is damaged or diseased, submit requests to Service Oshawa online.
Tree related By-laws
The City of Oshawa Tree By-law restricts harming of trees located on City owned land.
The Regional Tree By-law applies to Woodlands within the region that are one hectare (2.5 acres) in size and greater. If you are planning to cut down or remove trees within a woodland area, you may need a permit from the Regional Municipality of Durham.
OEAC Tree Giveaway
The Oshawa Environmental Advisory Committee (OEAC) is helping to expand Oshawa's tree canopy by providing free trees to Oshawa residents and property owners.
Registration is currently closed.