Oshawa Fire Services offers a variety of programs for youth and the community.
Safety Presentations
Fire safety presentations are available for groups such as schools and community groups. Submit your Safety Presentation Request at least 30 days before the presentation date.
Station Tours
Station tours are available for organizations, school and community groups. Submit your Station Tour Requests at least 30 days before the tour date.
Fire Truck Appearances
Have a fire truck attend your next community event. Please submit your Truck Appearance Request at least 30 days before the event date.
Resources
For other fire safety fun: kids, parents and teachers can find fire safety related activities, games and other fun stuff.
Programs
Junior Fire Chief Program
The Junior Fire Chief contest is for students in grades 5 and 6 who attend school in Oshawa. Students are to complete an essay on the importance of fire safety in their homes. Oshawa Fire Services will collect and review all essays. The top entries present their essay to a panel of Fire Services staff, then a winner is chosen.
All essays are due April 18. Essays submission options:
Mail: 199 Adelaide Ave. W., Oshawa, ON, L1J 7B1
Fax: 905-436-0276
In person at any Oshawa fire station (Monday to Friday from 8:30 a.m. to 4:30 p.m.)
Pick-up by Fire Services personnel from school offices before April 18 by calling 905-436-3311
The Junior Fire Chief will represent Oshawa Fire Services at the following events:
Annual Community Fire Safety Day (June)
Fiesta Week Parade (June)
Santa Claus Parade (November)
Junior Fire Chief Prizes:
Presentation at winner's school (Special guests include the Fire Chief, Deputy Fire Chief, Mayor and members of Council)
Tour of Oshawa Fire Services headquarters
Dinner at McDonald's (winners family)
One week of Oshawa Fire Services Junior Fire Fighter Summer Camp
Junior Fire Chief Hoodie
Junior Firefighter Camp
The Junior Firefighter Camp program is cancelled for summer 2023. However, we look forward to hosting the camp again next summer.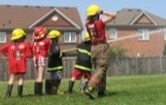 The Junior Firefighter Camp is offered in partnership with Oshawa Fire Services at Fire Station 5, 1550 Harmony Rd. N.
Campers aged 10 to 12 years will learn life skills, such as fire prevention, what to do in a fire emergency, fire fighter basics, such as using a fire extinguisher, fire hose, ropes and knots. Campers will also participate in camp games, activities and enjoy recreational activities at Delpark Homes Centre.
Space is limited to one week per child.
Free transportation is available from various locations throughout the City during specific weeks of camp.
Pick up: 8:30 a.m.
Drop off: 4:30 p.m.