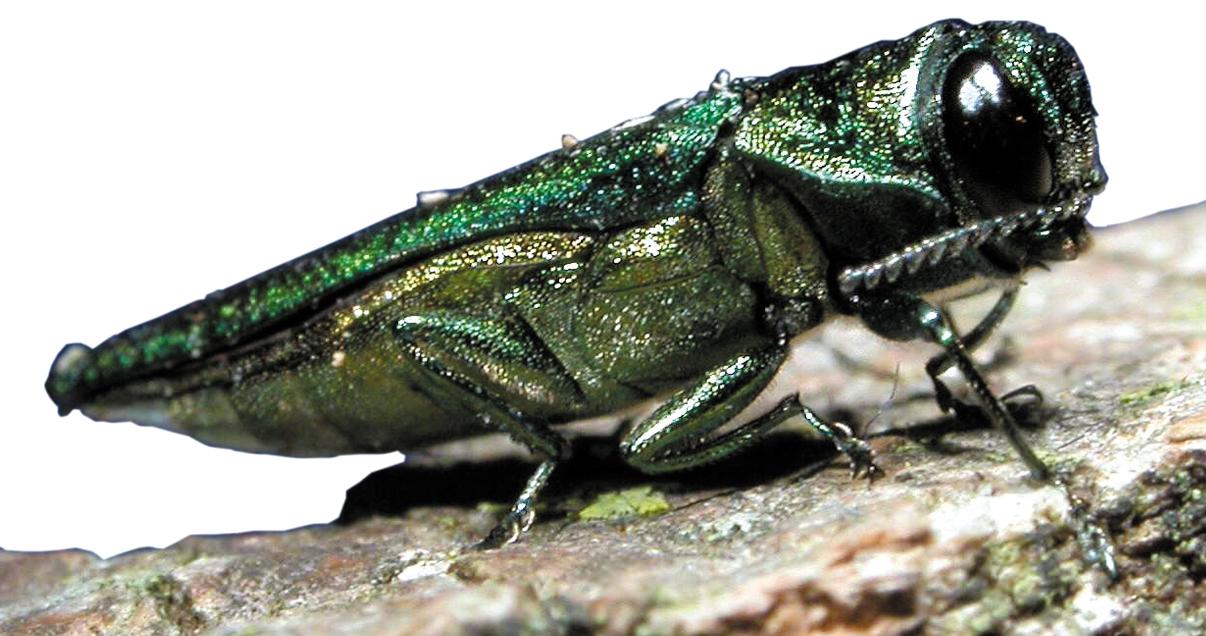 Emerald ash borer (E.A.B.) is an invasive beetle that feeds on all ash (Fraxinus) species in Ontario, including green, red, white, black and blue ash, as well as some non-native species such as European black ash (Fraxinus excelsior). Mountain ash is not a true ash tree.
The metallic green beetle emerges in early summer and will grow to be 8.5 to 13.5 mm long with a flattened head, large black compound eyes on the sides of the head, and short antennae. They lay 60 to 90 eggs one at a time in bark crevices on ash trees. Once the eggs hatch and become larvae, they tunnel under the bark to feed. These tunnels stop the flow of water and nutrients causing, the ash tree to die.
Identifying an ash tree
The bark on an Ash tree is tight and rough and often has a distinct diamond pattern. The leaves are compound and contain five to eleven finely toothed leaflets. The seeds of the leaf are oar shaped and hang down in clusters.
Signs of infection
Signs of E.A.B. usually only become clear once a tree is heavily infested. However, the following are signs and symptoms your ash tree may be infested with the E.A.B.:
leaves in the top third of the ash tree lose their green colour, thin and die back
galleries girdle the ash trees and foliage will wilt or turn yellow
branches begin to grow from the low trunk or roots
shallow meandering "S" shaped tunnels under the bark with abrupt turns and "frass" (refuse left behind by boring insects) or sawdust will be evident in tunnels
the bark begins to split
there are small "D" shaped exit holes 4 to 5 mm across on the bark of infected trees
increased woodpecker activity on the tree resulting in large holes
Tree canopy conservation
The City of Oshawa maintains approximately 41,500 trees throughout the community and is home to more than 350 ash trees at Lakeview Park. The City of Oshawa has treated its ash trees since the bug was first spotted in 2011. Lakeview Park continues to respond positively to injections. We will continue to treat and monitor the park while more native trees are planted.
Over 2000+ ash trees have been replaced since E.A.B. arrived in Oshawa
In 2022, over 1500 ash trees will be replaced on city boulevards or in parks
Lakeview Park
Lakeview park has over 350 ash trees that are treated every year
More than 200 trees were planted in Lakeview Park to help mitigate future canopy loss from ash tree removals
Over 600 trees were planted in other city parks
The City uses a systemic insecticide called TreeAzin to treat Lakeview Park. It is approved by Health Canada's Pest Management Regulatory Agency. Trees showing signs of 30% or more dieback of their branches will not be treated.
Canopy replacement
Street trees
After removing a tree, it is replaced with a different species suitable for the planting site.
See our Tree Planting page for information on how you can help care for your new tree.
Woodlots and green-spaces
While natural regeneration will account for most of the regrowth in our woodlands, portions of select sites have been identified for enhanced and/or intensive regeneration and replanting.
Replanting trees can provide:
Benefits to our health, the environment and the economy
Improved air quality and provides habitat for wildlife
Reduced heating and cooling costs of a home
Increased property value
Frequently asked questions
Do I have an Ash tree?
Ash tree branches and buds are opposite, with a single bud at the end of the branch (terminal bud). Twigs are gray to brown and do not have a waxy coating. Leaves are compound, 8 to 12in long, with five to nine leaflets/leaf. Leaves may be finely toothed or have smooth edges. The most common ash trees planted in the landscape are white ash (Fraxinus americana) and green ash (Fraxinus pennsylvanica). Other native ash trees less commonly found include black ash (Fraxinus nigra).
Will I receive information from the City in advance of the tree removal?
City staff provide an ash tree removal "door hanger" at the time of inspection.
Ash trees slated for removal will be marked with an orange 'Dot' on the roadside.
My boulevard tree did not look dead. Why was it removed?
Your ash tree may have some life in it, but the bug has affected it to the point where the tree is no longer viable, and may pose a risk to the public and/or the surrounding property.
It will not recover once an ash tree has shown symptoms/signs of infestation. A rapid decline in the tree's overall health and canopy will be evident. Urban forests provide many benefits to our community but, when an issue such as this arises, actions must be taken to ensure the safety of residents and prevent damage to surrounding properties. This may mean removing ash trees in areas like trails, green spaces and parks.
Can I cut my boulevard Ash tree down?
All City owned trees are maintained by the City of Oshawa, and any pruning/maintenance concerns should be called into Service Oshawa and will be inspected by Forestry staff.
Will every Ash tree be removed?
The City of Oshawa tree canopy has been heavily impacted by the infestation of E.A.B.. As a result, the City is working to replace the remaining ash trees located on City owned boulevards with different tree species.
Will the tree be replaced?
Removals are cut to stump height and placed on our replacement list. Each stump will be ground out, and a different species suitable to the planting site will be planted in its place.
Can I choose the type of replacement tree, or what kind of tree will be planted?
City of Oshawa Forestry staff will carefully choose the type of tree to be planted based on the tree's function, the intended location and soil conditions. The tree may need to be replanted in another location due to changes in underground utilities and surroundings.
Why is part of the tree still standing on my boulevard?
City staff or contractors will be around to remove the rest of the tree with separate equipment for efficiency purposes.
I have received a notice that you will be removing my boulevard tree. Can I schedule a time that this will happen?
It is not possible to schedule removal times. City forestry crews and contractors work within the City noise by-law. The City realizes that the construction work may be disruptive and will make every effort to complete the work as quickly and efficiently as possible. If you have a concern, please contact Service Oshawa.
What if I suspect the Ash tree on my property has E.A.B.?
Please remember that private property owners are responsible for trees on their property. If you suspect your Ash tree may have E.A.B., you are encouraged to consult a professional arborist as soon as possible. You should choose an arborist certified with the International Society of Arboriculture or registered with the American Society of Consulting Arborists. Doing nothing may put you and your property at risk.
We encourage residents to also become stewards of our urban forest, which provides many environmental and ecological benefits and encourage all to consider planting more trees on their private property, where suitability exists.
Additional E.A.B. resources