If you suspect carbon monoxide in your home, get out immediately and call 911.
Carbon monoxide (C.O.) is an invisible, odourless gas formed when fuels do not burn completely.
Heating and cooking equipment that burn fuel can be C.O. sources in the home. Vehicles or generators running in an attached garage can also produce dangerous gas levels.
Carbon Monoxide Alarms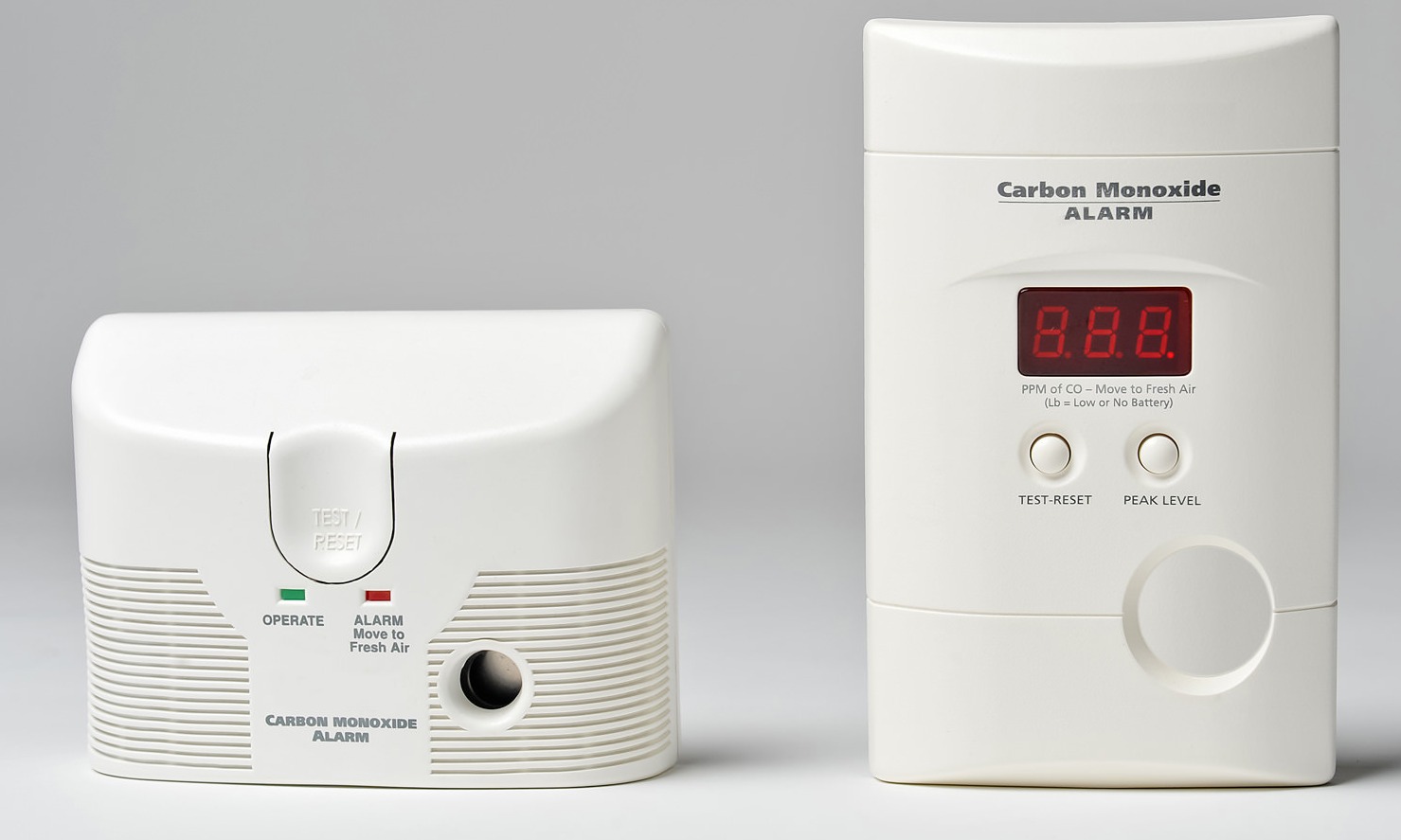 It is the law. The Ontario Fire Code has made it mandatory to have C.O. alarms in most residential properties.
The law requires you to install C.O. alarms in your home, apartment or multi-residential unit if you have a:
Fuel burning appliance
Fireplace
Attached garage
Installation of C.O. alarms near all sleeping areas in residential homes is mandatory. In multi-residential units, C.O. alarms must be installed in services rooms and adjacent sleeping areas.
Owners of multi-unit residences must comply with Carbon Monoxide alarm regulations as per the Ontario Fire Code.
Units built in Ontario after 2011 are required to have C.O. alarms installed when built.
View more information about Ontario Regulation 194/14.
Symptoms of Carbon monoxide poisoning
C.O. poisoning can mimic flu symptoms, food poisoning and other illnesses. Symptoms include:
Headache
Fatigue
Shortness of breath
Nausea
Dizziness
High level of C.O. poisoning results in progressively more severe symptoms, including:
Vomiting
Loss of muscular coordination
Loss of consciousness
Death
The dangers of C.O. exposure depend on many variables, including the victim's health and activity level. Some community members may be more severely affected by lower concentrations of C.O.:
Infants
pregnant women
People with physical conditions that limit their body's ability to use oxygen (e.g. asthma)
A small amount of C.O. can poison a community member by over a longer time period or a large amount of C.O. over a shorter amount of time.
What do I do if my carbon monoxide alarm activates
Immediately move to a fresh air location outdoors or open a window or door. Ensure everyone inside the home is accounted for and call 911 from the fresh air location and stay there until emergency personnel arrive.
Why call 911
Oshawa Fire Services will respond with C.O. alarms and determine if there is a C.O. source. If C.O. is detected, the gas company may be contacted to inspect appliances. Once the source is identified and a solution determined, you may be safely permitted back into your home.
Carbon monoxide safety tips
Test C.O. alarms at least once a month.
Replace C.O. alarms according to the manufacturer's instructions.
If you need to warm a vehicle, remove it from the garage immediately after starting it. Do not run a vehicle or other fuelled engine or motor indoors, even if garage doors are open. Make sure the exhaust pipe of a running vehicle is not covered with snow.
Ensure all vents for the dryer, stove, fireplace, and other fuel burning appliances are clear of snow and ice.
Use generators in a well-vented location outside, away from windows, doors and vents.
Clean and inspect all fuel burning equipment annually, such as dryers, fireplaces and chimneys.
Never operate a gasoline-powered engine indoors or in a closed space.
Never burn charcoal inside a home, garage, vehicle, or tent.
Never use gas appliances such as ranges, ovens, or clothes dryers to heat your home.
Never use portable fuel-burning camping equipment inside a home, garage, vehicle or tent unless designed for enclosed use.
If the audible trouble signal sounds, check for low batteries. If the battery is low, replace it.
Where to install carbon monoxide alarms
Choose a C.O. alarm that has the label of a recognized testing laboratory.
Read the manufacturer's instructions that come with each alarm.
The best location for C.O. alarms is in a central location outside each sleeping area and on every level of the home.
Do not block units with furniture or window coverings.
Follow the manufacturer's instructions for placement and mounting heights.
For the best protection, interconnect all C.O. alarms throughout the home. When one sounds, they all sound.
Dust and debris can affect the sensor's proper functioning, so keep it clean.
Keep common household chemicals and cleaners away from your C.O. alarms. Over time, these can damage the sensing device in the unit.
Where not to install a carbon monoxide alarm
Do not install a carbon monoxide alarm in a place where the temperature can fall below 4.4 C, such as an unheated garage or storage shed.
Do not install within five feet of any open flame appliance such as a cook top, fireplace or furnace.
Keep clear of any direct exhaust from gas engines, vents, flues or chimneys, as these will damage the alarm.
Where to buy a carbon monoxide alarm
You can buy C.O. alarms from most hardware stores in Canada. Look for devices that are approved by Underwriters Laboratories of Canada (U.L.C) and Canada Standards Association (C.S.A).
Approved devices include battery-operated units, electric units that can be plugged into a duplex receptacle, and hard-wired units.