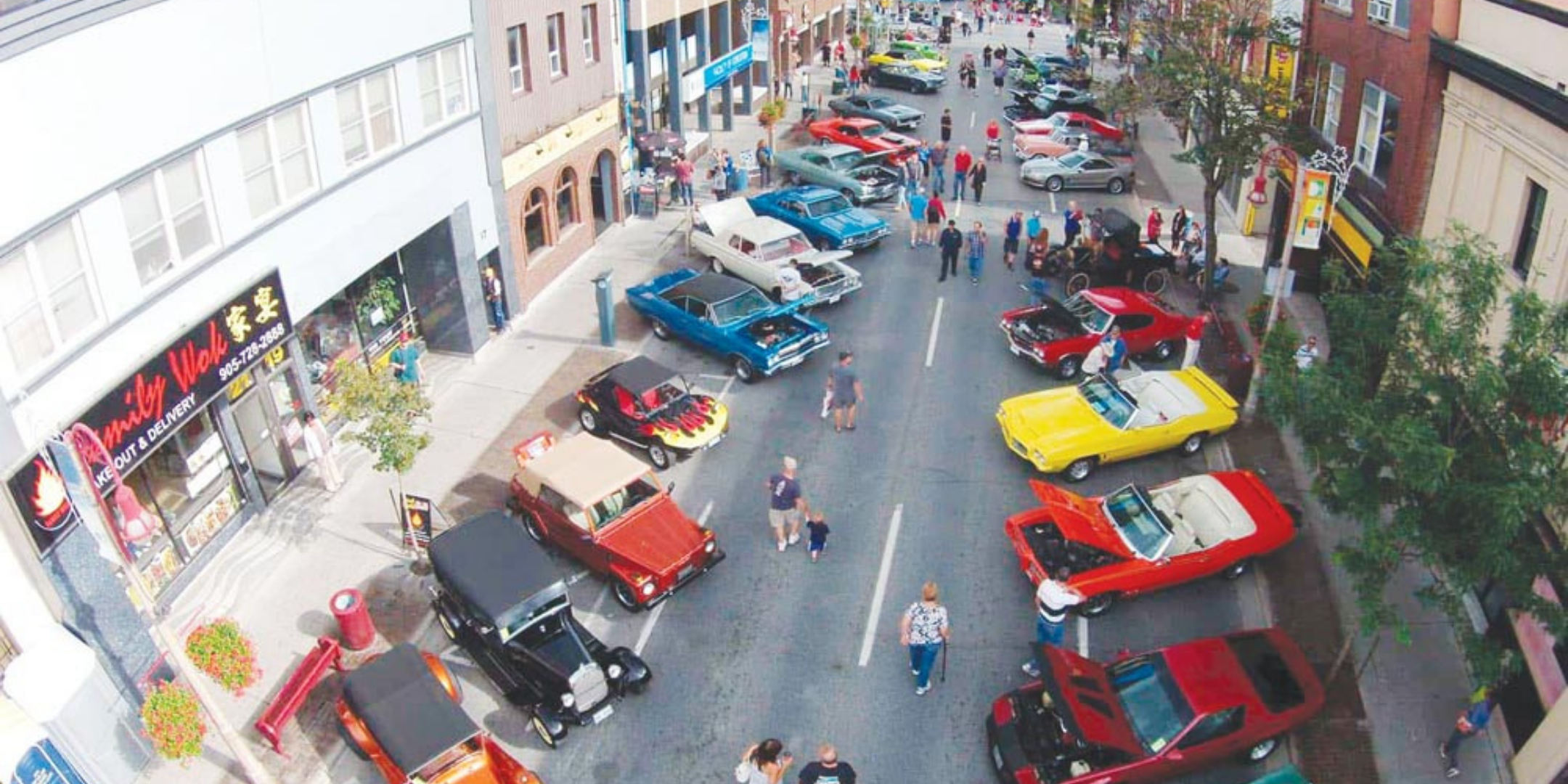 Friday, August 25 2023
Save the date!
Kars on King was a beautiful fun way to start the weekend full amazing vehicles. This free public event was held in downtown Oshawa. Everyone enjoyed the classic cars, live entertainment and the family zone. This event was presented by Atria Development.
What we had for you to enjoy:
In addition to over 300 mint condition, classic cars 1991 and older on display for your viewing pleasure we had lots for the whole family to enjoy!
Main Stage
Sponsored by Ontario Motor Sales
Located at: King St. and Simcoe St.
Paulie & the Goodfellas 3:30 p.m. to 4:45 p.m.
Opening ceremonies 5 p.m.
The Professors of Funk 5:30 p.m. - 6:45 p.m.
Beach Party Boys 7:30 p.m. to 9 p.m.
Buskers were wandering throughout the event.
Family Zone
Sponsored by Tim Hortons
Located at: Simcoe St. S. between Metcalfe St. and John St. W.
Inflatable amusements 3:30 p.m. to 9 p.m.
Zoo to You - 3:30 p.m. to 8 p.m.
Face painting 3:30 p.m. to 8:30 p.m.
Balloon twisting - 3:30 p.m. to 8:30 p.m.
Meet Transformers: Optimus Prime and Bumblebee - 5 p.m. to 8 p.m.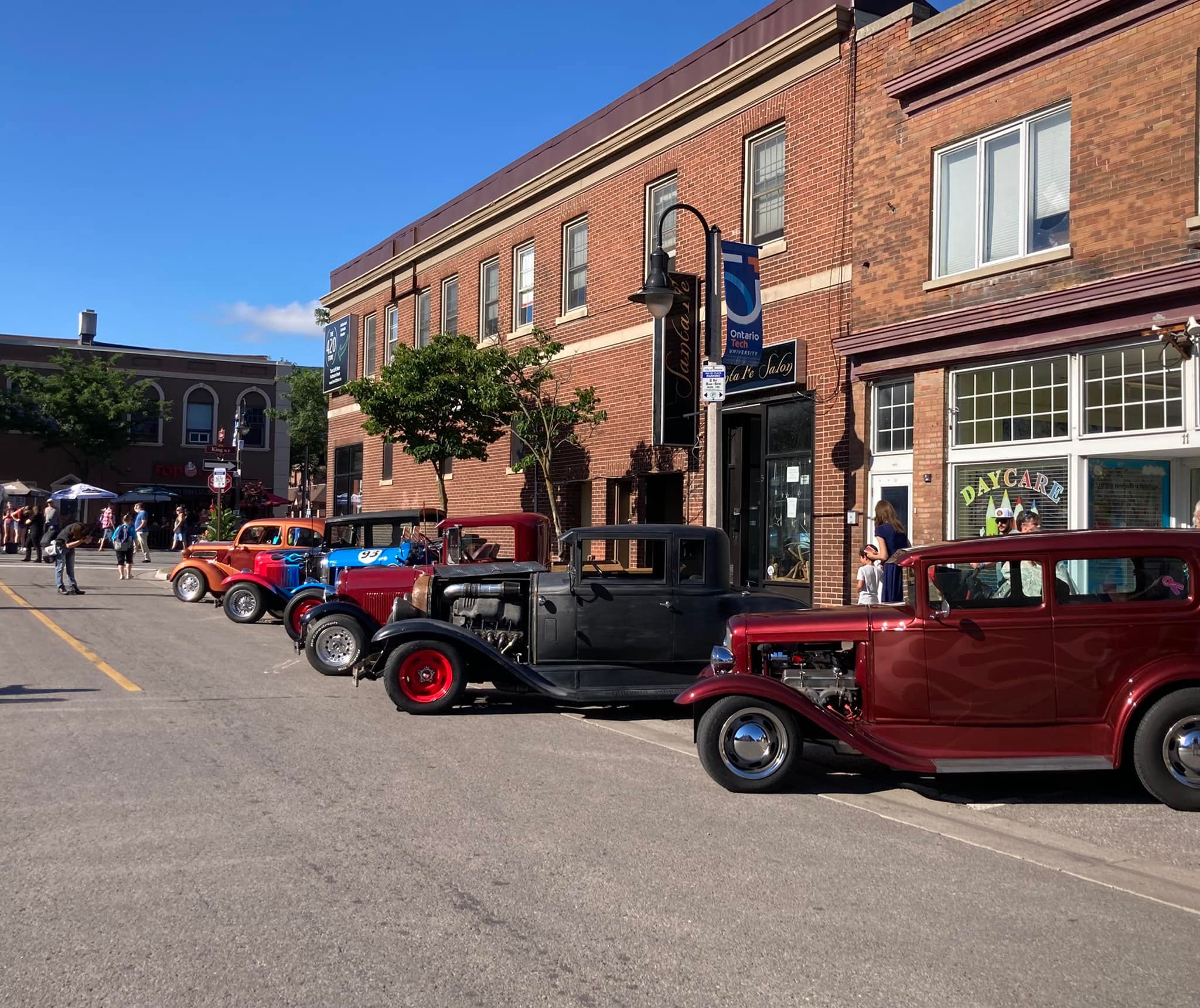 Winner using #Karsonking
The winner chosen by the randomizer wheel is Diane Warner. Thank you to everyone who submitted through Facebook, Twitter and our online submission form. There were some beautiful shots of the event! We hope you had as much fun attending as we did planning and executing the event! See you next year!
Other Event Notes:
Canadian Automotive Museum offered admission by donation to the museum from 3:30 to 7 p.m. The museum is home to the most significant collection of Canadian automotive history in the world. Visit to enjoy a great selection of classic cars and Disney Pixar's Lightning McQueen!
The Downtown Oshawa Business Alliance (DOBA) was excited to be a partner with this year's event. Visitors are always encouraged to visit the businesses and check out what they have to offer or grab a bite to eat at one of the many downtown restaurants. There is so much variety to choose from all within a few blocks.
Display Vehicle Notes & Reminders: Spaces were free and were sold out for this year!
Cars were required to register so that the Events Team could communicate with all displayers regarding road closures, event timing and spaces for cars.
Car owners will be issued and information package and a parking access pass which must be displayed on the dash to enter the road closure
The pass cannot be duplicated and sent to other car owners as it is specific to your vehicle
Cars without a pass will not have access and will be turned away even if they are registered
Cars are to be in place by 3:15 p.m. and may not exit the event until the end of the event or 9 p.m. whichever comes first.
The City of Oshawa is not responsible for any theft or damage to any participating vehicle
Parking spots are 'first come, first served' and may not be reserved. Owners are not permitted to save spots for others.
All participants must adhere to the City of Oshawa Code of Conduct
No idling or revving of engines while parking, stationary or leaving the venue
Vehicle ignitions must be off while parked
No burn-outs allowed when entering or leaving the venue
Radio and/or stereos are to not be used in an extreme loud or offensive manner, the City of Oshawa reserves the right to ask the participant to turn off any such music
Vehicles are not permitted to leave or move in the venue during the event
Vehicles may depart once staff have been given approval by the Police and when it is safe to do so
Other auto events:
Touch a Truck - Tribute Communities Centre
Location: 99 Athol St E
Time: 4 p.m. to 8 p.m.
Tribute Communities Centre welcomed back their annual Touch a Truck event happening simultaneously with the Kars on King event from 4:00 p.m. to 8 p.m. The free community event was hosted outside and around the Tribute Communities Centre and was a fun, hands on event that allows children of all ages to get up close and personal with more than 40 vehicles of all shapes and sizes. Children loved the interactive displays and the opportunity to learn about the vehicles from the drivers.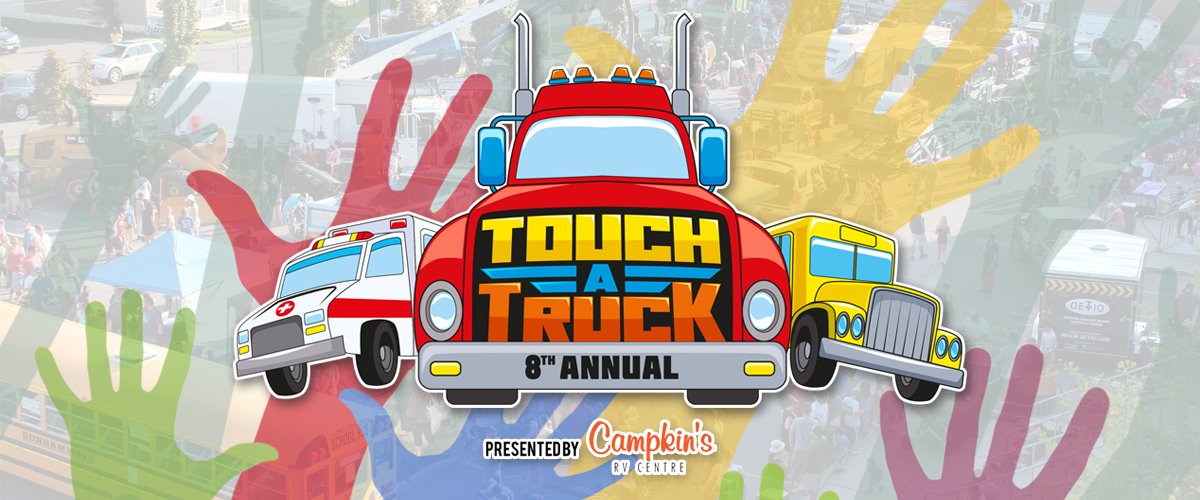 Autofest Nationals
Time: 4 p.m. to 8 p.m.
Date: Saturday August, 26 and Sunday August, 27 2023
Motor City Car Club will be on site promoting the Autofest Nationals event happening at Lakeview Park in Oshawa.
Presenting Sponsor
Main stage sponsor and event vehicle sponsor
Family Zone sponsor
Supporting sponsors

Kars on King Event partners (alphabetical order)