Support Black-Owned Businesses
Oshawa is proud to be home to a diverse group of businesses and entrepreneurs. In celebration of Black History Month, the City is showcasing Black entrepreneurs and their businesses that have contributed to making our community unique. Their investment and commitment have changed the landscape of Oshawa's economy. We encourage you to shop local and support our businesses.
Reasons to Support Black-owned Businesses:
Supporting Black-owned businesses helps Oshawa's community grow and thrive. Local businesses are important for creating jobs and opportunities and empowering our community members.
In general, black entrepreneurs and professionals have less access to capital, generational wealth and other opportunities, creating additional barriers to owning a small business. Supporting Black-owned businesses can help overcome some of these barriers to help Black business owners succeed.
Some Black-owned businesses are inspired by the culture and heritage of their owners. Supporting Black-owned businesses is a way of celebrating different Black cultures and the communities they represent.
Share your experiencing supporting Black-owned businesses with #OshawaLovesLocal on social media.
Florida Fades
27 King St. E., Downtown Oshawa

From their professional staff to the ambiance of their barber shop. Florida fades has distinguished itself as a complete trustworthy and soothing environment where clients can enjoy being pampered, escape the stress of their everyday lives, and relax with while listening to a smooth classic jazz.
Florida Fades Website | Florida Fades Instagram | Florida Fades Facebook
Bradybites Fruit Candy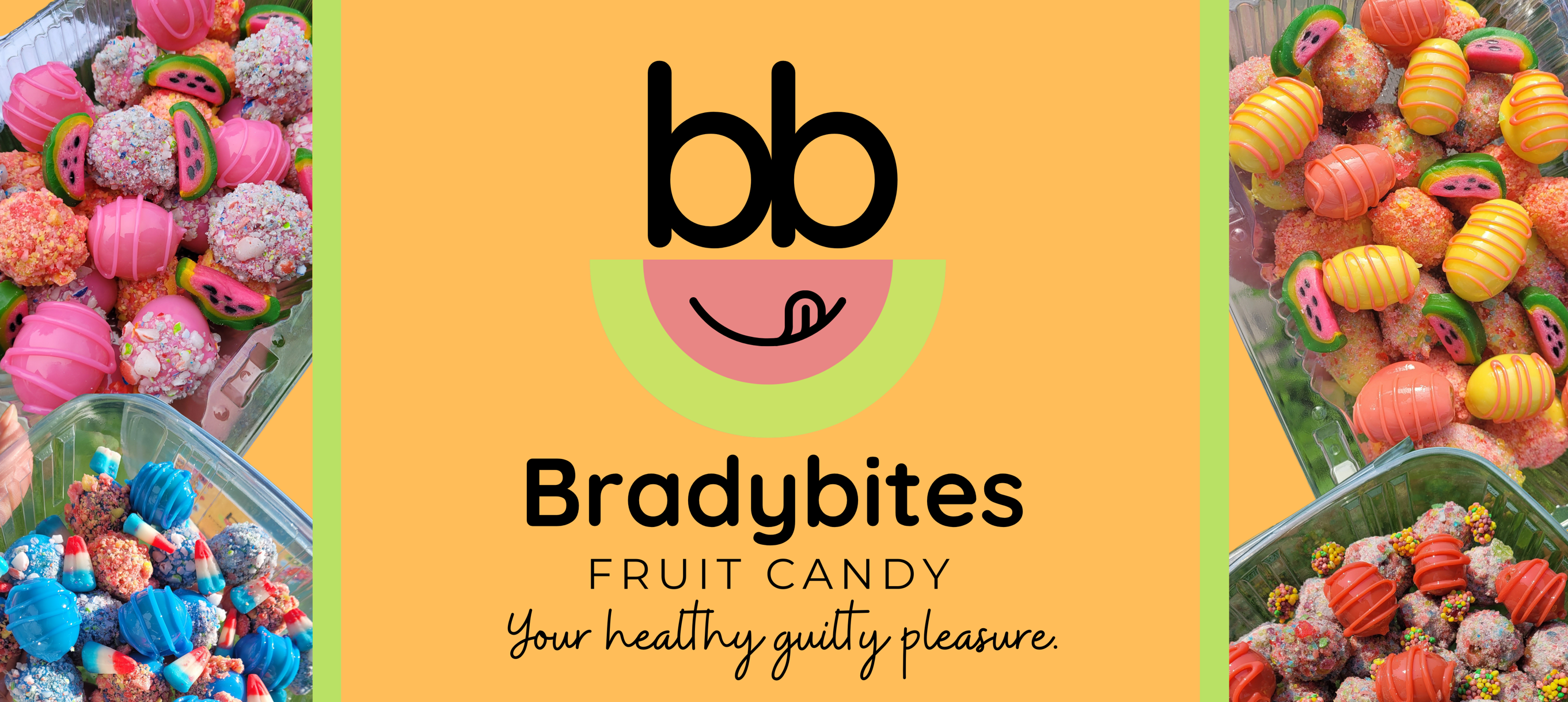 Bradybites Fruit Candy started in January 2023 with a slogan of "Your healthiest guilty pleasure". They buy their fruit fresh every 3 days from local food markets in Oshawa and use them to make delicious, candied fruit (similar to candy apples) but offering a wider variety such as candied Strawberries, Pineapples and Grapes. The process consists of using fresh fruits, dipping them in a homemade candy coating and topping them off with crushed assorted candies such as Jolly ranchers, Nerds, Skittles and Starburst just to name a few! It's like a party in your mouth every time you bite into their fruit candy! Bradybites offers delivery within Durham Region and curbside pick-up in Oshawa.
Bradybites Website | Bradybites Facebook | Bradybites Instagram
Catherine & Co.

Catherine & Co. candles are designed to fit in your space and start a conversation. We pride ourselves in having a candle for every situation - whether you immortalize that time you saw your favourite drag queen at Crews & Tangos or want to show someone how much you appreciate them, we got you.
Each candle is meticulously handcrafted using a soy wax blend and infused with non-toxic fragrance oils sourced by family-run perfumers in Canada and the United States. Catherine & Co. candles are both meaningful and inspirational and make lighting up a candle a part of your daily ritual.
Catherine & Co. Website | Catherine & Co. Facebook | Catherine & Co. Instagram
Nadia Cawley - Realtor

Nadia Cawley's main goal is to help her clients realize their real estate goals through owning and investing in property. She is passionate about educating her clients and breaking down barriers that can be intimidating in achieving home ownership.
Nadia Cawley has been a Realtor for 10 years and is often described by her clients as: knowledgeable, patient, honest, prompt and works hard to advocate for her clients interest. She ensures there is full transparency in every business relationship, and aims to provide the highest level of client care.
Building generational wealth through real estate is an important aspect of real estate and Nadia wants to assist many people accomplish this on their journey.
Nadia Cawley Website | LinkedIn | Instagram | Facebook
Carolyn's Beauty Supply and Salon
400 King St. W.

Carolyn's Beauty Supply and Salon is a family owned and operated Canadian company in business since 1994. Our team of professionals are proud of our Canadian heritage and are committed to providing our customers with the best professional hair and beauty products at affordable prices. With our passion, expertise and quality products, we hope to satisfy all your beauty needs.
Carolyn's salon services all ethnicities and customer satisfaction are at the top of our priority list. We are dedicated to delivering honest and quality work with continuous education and improvement driving our success. It has always been one of our top priorities to maintain customer satisfaction. Our staff works hard to meet the needs of our clients by listening to them to ensure they get their money's worth and exactly what they want.
Carolyn's Beauty Supply & Salon Website | Carolyn's Beauty Supply & Salon Facebook | Carolyn's Beauty Supply & Salon Instagram
Ocho Rios West Indian Grocery Mart
50 Taunton Rd. E.
Ocho Rios West Indian Groceries is your go to store for all your home away from home groceries, produce, spices, teas, and more. We carry a variety of products to satisfy the Caribbean, South American, African, and Canadian communities. Hardo breads, Roti shells, Jerk seasonings, Specialty Teas, Beef, Chicken, and Vegetable Patties, Jamaican coffee, and snacks from the islands are just a few of what we have in store. If you don't see what you need when you visit us, we will do our best to get it for you. We conveniently offer inside shopping and curbside pickup for your groceries. Coming soon is our online store, to further enhance your shopping experience.
JnK Hair & Beauty Supply
129 King St. E.

We are a locally owned retailer of haircare and skincare products and hair accessories located in Downtown Oshawa. We understand the impact of beauty on one's wellbeing and as such, our Goal is to make accessible essential haircare and skincare products and accessories readily available to our customers. We are a customer-centric business whose Mission is to make beauty effortless for our customers. We stock hair cleansing, styling and maintenance products, hair extensions, braiding hair, relaxers, tools and skincare products for women, men, and children.
JnK Hair & Beauty Website | JnK Hair & Beauty Facebook | JnK Hair & Beauty Instagram
The Purple Crown

The Purple Crown is a body care and home aromatherapy brand for men and women. Their hope and plan is to provide women and men with products that take you to a happy place; whether that be your favourite restaurant, country, or if it reminds you of someone special in your life, TPC wants to take you there by providing you with quality products infused with your favourite fragrances and essential oils. They want to enlighten your creative visions with the hopes that you may also find your purpose. As they love to say, "Let the Aroma Guide You."
The Purple Crown Facebook | The Purple Crown Instagram

Emerging Resilient Counselling and Psychotherapy

Individual counselling and psychotherapy for individuals dealing with mental health issues, life transitions, and trying to navigate the challenges they face.
Instagram | Facebook | LinkedIn

Relieve-Me Home Support Services
Relieve-Me Home Support Services is establishing itself as one of the most caring up and coming homecare service providers in the industry. Their aim is to strengthen the functioning and quality of life of seniors and persons with disabilities and special needs. Their services include; personal care, home care, respite care and mental health respite, and companion care. The services they provide help individuals with daily tasks such as; self care routines and household chores that are difficult to be completed independently as well as life skills training, accompaniment in the community, and emotionally supportive care. Through their caring service delivery, Relieve-Me Home Support Services address care gaps and remove barriers for persons needing assistance with their daily activities and emotional needs while living at home. They use home care as an entry point to support an enjoyable and happy life at home.

Website | Instagram | Facebook
Lala The Artist
Leequette Santiago, also known as Lala The Artist, is an Ontario based multidisciplinary artist. She recreates family portraits and wedding photos by piecing together pictures of the past. She is also a dedicated art instructor and enjoys teaching families how easy it is to create works of art.
e-CAMP MENTORing (e-CAMP)
e-CAMP MENTORing (e-CAMP) is a Canadian federally incorporated agency dedicated to youth development and empowerment through Mentoring, Training and Coaching. This social action network informs, inspires, and recognizes youth 15-24 years but is also sensitive to the unique needs of 25-29 year-olds as may become necessary. e-CAMP MENTORing along with its partners and service collaborators, support and enrich formal education through 4 pillars of passion content - Sports and Wellness; the Arts and Humanities; Business/Entrepreneurship and Finance; along with Science, Technology, Engineering and Mathematics. MENTORing, both face-to-face and technology-based provide the foundation for all their activities.
e-CAMP Website | e-CAMP Facebook | e-CAMP Instagram | e-CAMP Twitter
Diark's M'pire
2344 Chevron Prince Path
Diark's M'pire brings to you a variety of products and services. Home of Diark's Brand, Diark's Media, Jus' By Request and S3xyLov3 brand. It's a whole M'pire over here, all in one place for your comfort and convenience. Get all your printed media such as; Business/Networking Cards, Postcards, Flyers, Invitations, Wedding Stationery etc. Web media includes graphic logos, social media development, website design and much more from Diark's Media. Shop all the latest trends seasonal and occasional apparels and Indulge in Royalty by wearing Diark's Crown, Shine like that Star with Elegance, Glamour, Style, Swag and that touch of Grown and Sexy by S3xylov3. From the comfort of your home and place of pleasure you can enjoy the stress and hassle free time of Jus' by requesting product or service you're looking for simply through our Jus' By Request services or visit our site. Here at Diark's M'pire we believe in extending a hand and helping the less fortunate; therefore, we pledge with every purchase or product of service requested a percentage of all proceeds and outside donation receives goes to the Diark's Foundation which aid in giving back and continuing support to their many projects.
Diark's M'pire Website | Diark's M'pire Facebook | Diark's M'pire Instagram | Diark's M'pire Twitter
I AM HAIR - Zion Collection
Zayowah Leslie Willis is the founder of I AM HAIR Zion Collection. She is an experienced hairstylist/hair care specialist of over 25 years, salon owner of 15 years, and has managed many salons in different cities. What makes her products unique are their key properties; their ability to provide strength, intense hydration, rejuvenation and revitalization of hair. Ingredients include avocado butter, sea moss, and keratin. They all work together to create and maintain healthy looking hair. These are the types of essential ingredients customers need and I AM HAIR provides you with just that.
I AM HAIR - Zion Collection Instagram | I AM HAIR - Zion Collection Facebook
Stanley Beckford C. G. Inc
33 - 221 Ormond Dr.
Stanley Beckford C. G. Inc. was formed in 2018 to help organizations solve mission critical challenges in the areas of Strategic Planning, Mergers and Acquisitions Execution, Operations Optimization and Enterprise Risk Management. Our approach as a Business Consulting and Project Management firm leverages Industry best practices, in-depth research and significant industry experience to develop and implement thoughtful and effective solutions for our clients. We provide a carefully tailored range of services and solutions to help organizations facilitate change, optimize performance and achieve their vision.
Stanley Beckford C. G. Inc. Website
Champs Caribbean Restaurant
1288 Ritson Rd. N., Unit 6
Founded in 2020, Champs Caribbean Restaurant offers a delicious variety of Jamaican dishes and desserts. Devon the owner of Champs, has over 10 years of restaurant experience and has enjoyed every minute of it. Being a family owned business he understands the importance of community, and strives to support those around.
Champs Caribbean Restaurant Website | Champs Caribbean Restaurant Facebook | Champs Caribbean Restaurant Instagram
Synergy Business Alliance
216 - 1288 Ritson Rd. N.
Synergy Business Alliance was created by a senior law clerk and entrepreneur who understands the difficulties faced by sole practitioners and small businesses looking to achieve sustainable growth but lacking the resources and staff to help them get there. As such, our all-in-one business model is designed to help any company and law firm manage day-to-day tasks and client files with ease on a remote, as-needed basis.
Whether you are a sole practitioner, solopreneur or have a growing team, your business can work smarter, not harder, by employing Synergy's remote and as-needed support to manage any project, streamline your services, build your clientele, maintain customer communication and relationship management and more. Synergy works with you to integrate the digital tools you already use to run your business and maintain a smooth and lasting business alliance.
Synergy Business Alliance Facebook | Synergy Business Alliance Instagram
Michelle Graham Publishing
Oshawa-based Online Business
Michelle Richards-Graham is an independent author. She wrote the first draft of her first novel when she was 14 years old after she was molested. The process helped her overcome what had happened to her, and she continued writing because becoming a published author had been her childhood dream. Her young adult books tackle realistic subject matter: first love, friendships, broken homes, abuse, and the tough decisions to be made in the middle of it all. Michelle has made speaking appearances at schools and events hosted by groups and organizations that support adolescents and women. She launched her rebranded personal publishing imprint in December 2019 and released new editions of her books, which are available for purchase through her website. Michelle is currently working on her next YA novel, and she remains dedicated to encouraging teens through events and discussions that promote positivity and inspiration.
Michelle Graham Publishing Twitter | Michelle Graham Publishing Goodreads
Labour Done Right Services
332 Highland Ave.
At Labour Done Right, we offer a wide range of labour-based services. We are a full-service company built on providing our customers with the most reliable services at competitive rates. we are pleased to customize any of our services to suit your preference. Client satisfaction is our priority, and we aim to provide superior quality.
Our motto is: We strive to ensure that the Labour is Done Right.
Art by Ashlee
1132 Schooling Dr.
Guaranteed to turn any self-doubting beginner painter into a proud artist upon completion! You provide the venue and enough table space to hold your guests and I provide the rest! (paint, canvas, easels, brushes etc). NO PAINT EXPERIENCE NECESSARY. It is a great take home experience for all involved! Suitable for kids, adults and seniors.
Art by Ashlee Website | Art by Ashlee Instagram
Liquidgreen Products
13 - 909 King St. W.
Liquid Green Products Inc. produces and markets a line of eco-superior, green cleaning products for discriminating, health-conscious families. We operate on the principles of Earth First, as none of our products risk damaging your health, yet they get the job done, especially during this COVID-19 pandemic. We bring the absolutely best quality products for people, pets and plants at a great value.
Liquid Green Products Website | Liquid Green Products Facebook | Liquid Green Products Instagram
CNMG Courier
Oshawa-based Online Business
CNMG is a courier company that serves Durham and the GTA. They provide fast, reliable and affordable courier services to all kinds of businesses.
Andrea's Dresses
217 Adele Cres.
Andreas Dresses provides custom made pieces of African prints and other gorgeous fabrics. We also do African print t-shirts and headwraps. Our styles ranged from formal for wedding attire to casual and chic.
NOTE: Businesses included in this list responded to a message from [email protected] and the Community Diversity Equity and Inclusion Committee. The participants self-identified as Oshawa-based and Black-owned. We acknowledge that this is not a complete list of Black-owned Oshawa-based businesses. If you would like to have your business added to this list, please send your information to [email protected]