Municipal government impacts your life daily. This fall, you can help decide who will guide the future of your city.
What do you need to know as an Oshawa voter?
Who can vote?
Get ready to cast your ballot this fall if you're:
a Canadian citizen;
at least 18 years old on Voting Day;
an Oshawa resident or an owner or tenant of land in Oshawa (and the spouse of such owner or tenant); and,
not prohibited by law from voting.
You may only vote once in the City of Oshawa Municipal & School Board Elections, regardless of how many properties you own or rent within the city.
You must vote in the ward where you live or where your property is located.
Information for post-secondary students
If you are a student and consider your "home" to be the municipality you live in when you are not attending school, which means you plan to return there, then you are eligible to vote in both your "home" municipality and in the municipality you live in while attending school.
If you are a student from Oshawa attending school in another municipality, please check with the City Clerk of that municipality to find out your voting options.
As a student and a resident of Oshawa, if you are unable to vote at an in-person opportunity in the Oshawa Municipal & School Board Elections, you may request to vote-by-mail.
Who cannot vote?
You are prohibited from voting on Voting Day if you are:
serving a sentence of imprisonment in a penal or correctional institution;
a corporation;
acting as executor or trustee or in another representative capacity, except as a voting proxy; or,
convicted of a corrupt practice described in section 90(3) of the Municipal Elections Act, 1996.
What positions can I vote for?
Qualified Oshawa electors may vote for:
one candidate for Regional Chair, elected region-wide;
one candidate for Mayor, elected city-wide;
one candidate for Regional & City Councillor, elected from your ward;
one candidate for City Councillor, elected from your ward; and,
Trustee(s) from your School Board (as applicable).
What's your ward? Use the City's What's my Ward? tool to find your ward and learn more about Oshawa's ward system.
Find the official list of individuals who have filed a nomination on the Candidates webpage.
When, where and how can I vote?
You can vote in-person on Voting Day, Monday, October 24, 2022 from 10 a.m. to 8 p.m. at any voting place in your ward.
How you'll vote
When you arrive at a voting place, you will be asked to show your I.D. to an Election Official who will check if you are registered on the Voters List. If you are not on the list, an Election Official will add you to the Voters List and ask you to make a declaration.
The Election Official will then issue you a ballot in a secrecy folder based on your school support.
You will go behind a voting screen to mark your ballot. To vote for your chosen Candidate(s) fill in the circle beside their name(s).
Bring your marked ballot in the secrecy folder to the Election Official operating a tabulator. The Election Official will hold the secrecy folder with your ballot to the tabulator and your vote will be counted.
Confirm you have a piece of accepted I.D. with you on Voting Day:
What identification do I need to vote?
In order to be issued a ballot, voters must provide one of the following documents to prove their identity and residence:
An Ontario driver's licence.
An Ontario Photo Card.
An Ontario motor vehicle permit (vehicle portion).
A cancelled personalized cheque.
A mortgage statement, lease or rental agreement relating to property in Ontario.
An insurance policy or insurance statement.
A loan agreement or other financial agreement with a financial institution.
A document issued or certified by a court in Ontario.
Any other document from the government of Canada, Ontario or a municipality in Ontario or from an agency of such a government.
Any document from a Band Council in Ontario established under the Indian Act (Canada).
An income tax assessment notice.
A Child Tax Benefit Statement.
A Statement of Employment Insurance Benefits Paid T4E.
A Statement of Old Age Security T4A (O.A.S.).
A Statement of Canada Pension Plan Benefits T4A (P).
A Canada Pension Plan Statement of Contributions.
A Statement of Direct Deposit for Ontario Works.
A Statement of Direct Deposit for Ontario Disability Support Program.
A Workplace Safety and Insurance Board Statement of Benefits T5007.
A property tax assessment.
A credit card statement, bank account statement, or R.R.S.P., R.R.I.F., R.H.O.S.P. or T5 statement.
A C.N.I.B. Card or a card from another registered charitable organization that provides services to persons with disabilities.
A hospital card or record.
A document showing campus residence, issued by the office or officials responsible for student residence at a post-secondary institution.
A document showing residence at a long-term care home under the Long-Term Care Homes Act, 2007, issued by the Administrator for the home.
A utility bill for hydro, water, gas, telephone or cable T.V. or a bill from a public utilities commission.
A cheque stub, T4 statement or pay receipt issued by an employer.
A transcript or report card from a post-secondary school.
An Ontario Health Card (photo card) - must include qualifying address.
The voter may use any document listed above so long as it is an original, or a certified or notarial copy, and shows the person's name and qualifying address.
If a voter does not have any of the above listed documents, they may complete the declaration of identity form, which will be provided to them by an election official upon request.
Voting Day Voting Places
Review our full list of voting places or enter your address in the Voting Place Lookup tool below to find your assigned voting place and other voting places in your ward:
Vote-by-mail, on request
The vote-by-mail request period closed on Monday, September 12.
Vote-by-mail packages were mailed September 27 to qualified voters who requested a package. The vote-by-mail package includes your ballot, a pre-paid return envelope, and instructions on how to return your ballot. If you requested a package, check your mailbox!
Check the status of your vote-by-mail package!
Once you receive your vote-by-mail package:
Vote for your chosen Candidate(s) by filling in the circle beside their name(s) with any writing device (e.g. pen, marker, etc.).
Place your marked ballot inside the secrecy envelope. Complete the declaration form by signing in the required box.
Place the declaration form and the secrecy envelope inside the pre-paid return envelope.
If you applied for you ballot via phone, please include a copy of your ID.
Return your marked ballot one of two ways:

Put your marked ballot in the pre-paid return envelope through any Canada Post box prior to October 10, 2022; or,
Drop off your return envelope in any of the six Vote Oshawa drop boxes throughout the city prior to October 20, 2022.
Explore our Key Dates page to learn more about upcoming milestones in the 2022 Municipal & School Board Elections.
Orange Vote Oshawa vote-by-mail drop boxes are available at:
City Hall, 50 Centre St. S.
Civic Recreation Complex, 99 Thornton Rd. S.
Delpark Homes Centre, 1661 Harmony Rd. N.
Donevan Recreation Complex, 171 Harmony Rd. S.
Northview Community Centre, 150 Beatrice St. E.
South Oshawa Community Centre, 1455 Cedar St.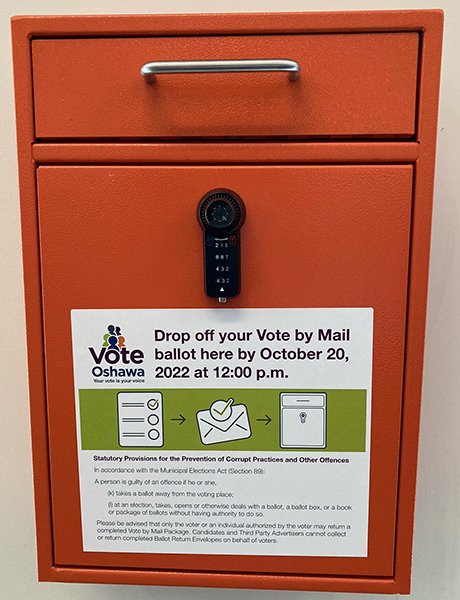 Appointment of Voting Proxy
In accordance with Section 44 of the Municipal Elections Act, 1996, an elector may act on behalf of one other qualified elector who is not a relative or on behalf of one or more qualified electors who are relatives as a Voting Proxy.
The Appointment for Voting Proxy Form is available at Legislative Services (50 Centre St. S., 5th Floor). The elector appointed must present the completed Proxy Form in-person to a designated Election Official at Legislative Services during normal business hours or, from 12 p.m. until 5 p.m. on any Advance Voting day that falls on a weekend, for certification. When acting on behalf of more than one relative, separate Proxy Forms are required. The elector appointed as a voting proxy must also provide identification for the person making the appointment. A photocopy or picture of the identification of the voter making the appointment may be accepted.
At the Voting Place, the elector must present the certified form to the Election Official issuing the ballot and take an oral oath attesting they are the appointed person acting on behalf of voter. Once complete, they will vote on behalf of the elector whom they were appointed by.