Road and Sidewalk Closures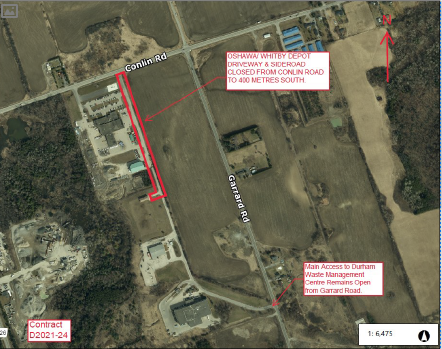 Posted on Tuesday, January 17, 2023 02:30 PM
The Regional Municipality of Durham has begun construction of a new feedermain on Conlin Rd. from Thickson Rd. N. (Regional Road 26) to Stevenson Rd. N., and on Garrard side road approximately 400 m. south of Conlin Rd. in the Town of Whitby and City of Oshawa. In co-ordination with the City of Oshawa, the work also includes road reconstruction, watermain, sanitary and storm sewer construction on Conlin Rd. from the west city limits to 250 m. west of Stevenson Rd. N. in the City of Oshawa. Construction...
Posted on Tuesday, May 24, 2022 10:45 AM
Where: Harmony Trail is closed from Rossland Road to Hillcroft Street
When: Until Further Notice.
Why: Due to fallen trees from the storm.
We apologize for any inconvenience this may cause.
For more information please contact Service Oshawa at 905-436-3311 or [email protected]
Posted on Friday, February 11, 2022 04:45 AM
Where: Between Olive Ave. and Albany St. over CP Rail track.
Road closure and detour signs will be posted in accordance with provincial standards.
Full Road Closure - No through access will be available for emergency vehicles. No through access for local traffic.
When: From February 11, 2022 until further notice.
Unfavourable weather conditions may influence the work schedule.
Why: Work on behalf of CP Rail to conduct bridge inspection.
We...